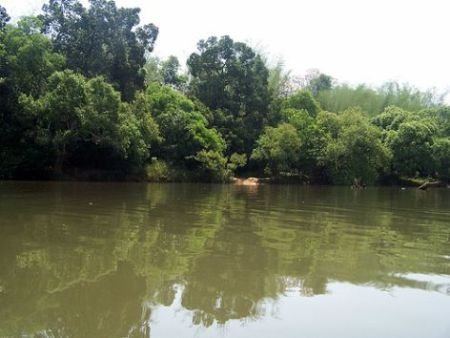 The
Kuruva Island
in Wayanad,Kerala is a 950 acre evergreen forest on the tributaries of east following river Kabani, which is an ideal picnic spot and potential
eco tourism
destination, far away from the disturbance of city life. The
island
is uninhabited. Rare species of birds, orchids and herbs are the sovereigns of this supernal kingdom. Mainly there are three islands at the e
co tourism
destination of
Kuruva
and a few submergible satellite islands. The main island of Kuruva contains two small fresh water lakes.
Several migratory birds are seen here. These islands present a unique eco system which may be of great interest of nature lovers. It is located 17 kms. east of Mananthavady and 40 kms. north west of Sulthan Bathery. Now Kuruva is one of the two eco tourism projects in Kerala.It is a charming picnic spot and a prospective ecotourism destination offering very diverse ecosystems of flora and fauna. The green woods of Kuruva is made fertile by the river Kabani surrounding this collection of small islands.

Regarding travel attractions around Kuruva island- one of the highest locations in Wayanad, Lakkidi hill station is a major attraction nearby. It commands a picturesque scenery. It is about 58 kms. north east of Kozhikode and five kms. south of Vythiri. Lakkidi, the gateway of Wayanad, lies atop Thamarassery, a ghat pass at an elevation of 700 m. above mean sea level.The lofty mountain peaks, the gurgling stream, luxuriant vegetation and the birds eye view of the deep valley on the south, with its winding roads, are breath taking. The 12 kms. long journey from Adivaram to Lakkidi through ghat road with nine hairpin bends amidst thick forests, is a fascinating experience.